See the previous post: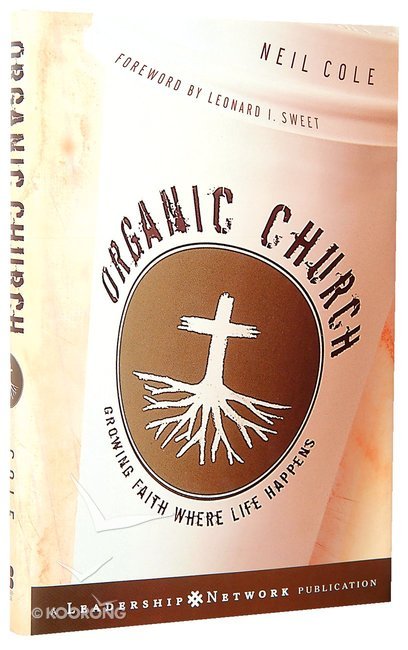 Churches have tried all kinds of ways to attract new and younger members – revised vision statements, hipper worship, contemporary music, livelier sermons, bigger and better auditoriums. But there are still so many people who aren't being reached, who don't want to come to church. And the truth is that attendance at church on Sundays does not necessarily transform lives; God's presence in our hearts is what changes us. Leaders and laypeople everywhere are realizing that they need new and more powerful ways to help them spread God's Word.
According to international church starter and pastor Neil Cole, if we want to connect with young people and those who are not coming to church, we must go where people congregate. Cole shows readers how to plant the seeds of the Kingdom of God in the places where life happens and where culture is formed – restaurants, bars, coffee houses, parks, locker rooms,and neighborhoods. Organic Church offers a hands-on guide for demystifying this new model of church and shows the practical aspects of implementing it.- Publisher
About Leadership Network. Foreword. Preface. Introduction. Part One: Roots Of The Organic Church. Part Two: The Organic Nature Of The Kingdom Of God. Part Three: From The Microscope To The Telescope. Part Four: The Epidemic Kingdom And How It Spreads. Part Five: The Call To Organic Church. Notes. Acknowledgments. About The Author. Subject Index. Scriptural Index.- Publisher
"This book is profound, practical, and a pleasure to read. It stretches our thinking and brings us to a place where we can see the Kingdom of God spread across the world in our generation. This book has come at the right time." –John C. Maxwell, founder, INJOY, INJOY Stewardship Services and EQUIP "My life is about seeing hundredfold results. Neil Cole's approach helps get those kinds of results for churches by planting many new expressions of the Kingdom that reach thousands of people.
One of the great joys of my life for the past six years has been to watch the dramatic growth of Awakening Chapels and the organic churches described in this work. Cole's new book tell not only the inspiring story but also describes the principles, so you can apply these ideas." –Bob Buford, founder and chairman, Leadership Network; author, Halftime and Finishing Well "I always listen when Neil Cole speaks. His breadth of understanding and practice of what he preaches is right on. Everyone should know.
or be aware of this guy that God is using in a powerful way." –Bob Roberts, senior pastor, NorthWood Church, Keller, Texas "Neil Cole is one of the foremost thinkers and practitioners organic forms of church. His vision of the church is as new as it is ancient. Cole's story as well as the philosophy of Church Multiplication Associates is paradigmatic for the church as it seeks to negotiate its way faithfully into the twenty-first century." –Alan Hirsch, director, Forge Mission Training Network, church planter; author, The Shaping of Things to Come "In an age where millions are saying 'God yes, church no!' most of us instinctively feel that church as we know it prevents church as God wants it. But where, exactly, is the catch? Where do we go from here?
Neil Cole expertly places a thrilling invitation before us to join probably the most exciting spiritual pilgrimage going on today: the global migration of a church on the way back home. Come and dial in!" –Wolfgang Simson, author, Houses that Change the World "Church multiplication is not likely to be the province of ivory tower theoreticians! In Organic Church Neil Cole helps us to understand that church multiplication is never going to be a spectator sport. This is hands down the most useful and comprehensive book currently available to understanding the rapidly growing expressions of simple, organic church life around the world." –Dr. N. A. (Tony) Dale, editor, House 2 House Magazine "I heartily recommend this book. It is packed with deep insights; you will find no fluff in it.
Among the books on church planting, it offers a rare combination of attributes: it is biblical and well written, its model has proven effective, and it is authored by a practitioner rather than an observer or an ivory-tower theoretician." –Curtis Sergeant, directory of church planting, Saddleback Church, Lake Forest, California "It is a great joy to recommend Neil Cole's Organic Church. The stories and experiences in this book will encourage many to follow the Holy Spirit and go where God is leading. Neil Cole is a true pioneer in the faith and a man of great vision who has chosen to live out the things that God has poured into him. I believe this book will ignite hearts to live out their faith in organic communities across the country and around the world." –Rev. Michael Steele, North American director, Dawn Ministries "Neil Cole is a true trailblazer for today's church. His story will inspire you and equip you to experience the living Christ in community." –Jonathan S. Campbell Ph.D., author, The Way of Jesus- Publisher.
_________________________________________